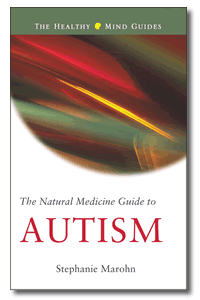 The Natural Medicine Guide to Autism
Autism is now an epidemic in the United States. The number of people afflicted is as high as 1 in 150 in some places, and 1 in 500 nationally. The incidence has risen by as much as 1000% in the last 15 to 20 years. This book explores why and, unlike the grim prognosis conventional medicine gives autism, offers effective treatment options and the possibility of a positive outcome via natural medicine (alternative medicine) therapies that can ameliorate or reverse the disorder in many cases. This medical approach is based on treating the individual rather than the diagnostic label, and addressing underlying imbalances rather than concentrating on symptoms.
Among the natural medicine therapies featured in this book are biochemical therapy, cranial osteopathy, CranioSacral therapy, heavy metal detoxification, homeopathy, NAET (allergy elimination), nutritional/digestive therapy, and the Tomatis method.
Hampton Roads Publishing, 2002; 285 pages; ISBN 1-57174-288-3
See Table of Contents Read excerpt: Chapter 1

---
Support independent bookstores!
www.bookpassage.com
Home of acclaimed Author Events, Corte Madera, CA

www.powells.com
Powell's City of Books since 1971, Portland, OR
This book is also available at:
www.amazon.com
and other online booksellers.
Links to some of the doctors/practitioners whose work is covered in The Natural Medicine Guide to Autism:
The foreword to this book was written by the late, great founder and director of the Autism Research Institute (ARI). DAN! (Defeat Autism Now) is a project of ARI.
www.autism.com

Dietrich Klinghardt, MD, PhD
www.klinghardt.org

Paul Madaule, LPs
The Listening Centre
www.listeningcentre.com

Devi S. Nambudripad, MD, DC, LAc, PhD
www.naet.com

Maile Pouls, PhD
www.advancednutritionalconsulting.com

Thomas M. Rau, MD
Paracelsus Klinik
www.drrau.com

Judyth Reichenberg-Ullman, ND, DHANP, MSW
Northwest Center for Homeopathic Medicine
www.healthyhomeopathy.com

Zannah Steiner, CMP, RMT
Soma Therapy Centre
www.somatherapy.info

William J. Walsh, PhD
Health Research Institute/Pfeiffer Treatment Center
www.hriptc.org
| Home | Books (main) | Bio | Contact |
| Angel Editing | Animal Sanctuary |