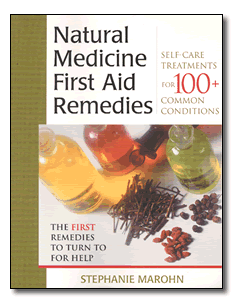 Natural Medicine First Aid Remedies
This book is a comprehensive guide to treating 104 common household ailments—from abscesses to warts—naturally, safely, effectively, and at home. Rather than offering only one or two treatment options for each ailment, the book features eight different modalities with information provided by over 50 alternative medicine practitioners. By using natural medicine, the reader can avoid the chemicals and potential side effects of conventional pharmaceuticals.
Bonus: The Top Ten Remedies for Home First Aid tells the reader how to stock a natural home medicine cabinet.
The natural medicine therapies featured are
Essential Oils
Flower Essences
Food Therapy
Herbal Medicine
Homeopathy
Nutritional Supplements
Reflexology
Stones/Crystal Therapy
Hampton Roads Publishing, 2001; 443 pages; ISBN 1-57174-218-2
See Table of Contents Read excerpt: Abscess
---
Support independent bookstores!
www.bookpassage.com
Home of acclaimed Author Events, Corte Madera, CA

www.powells.com
Powell's City of Books since 1971, Portland, OR
This book is also available at:
www.amazon.com
and other online booksellers.
| Home | Books (main) | Bio | Contact |
| Angel Editing | Animal Sanctuary |