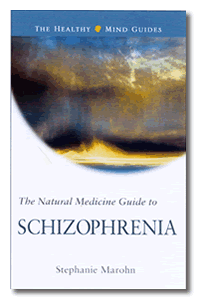 The Natural Medicine Guide to Schizophrenia
More hospital beds in the U.S. are occupied by schizophrenic patients than patients with any other illness, including cancer, heart disease, and stroke combined. This book demonstrates that, contrary to the dismal prognosis associated with a diagnosis of schizophenia, this illness is treatable in many cases. The focus of the book is on healing from schizophrenia, not learning how to endure it. The case histories show that the use of natural approaches makes it possible for people to recover from schizophrenia and reclaim their lives.
Among the natural medicine (alternative medicine) therapies featured are orthomolecular medicine/psychiatry, biochemical therapy, cranial osteopathy, antiviral protocol, family systems therapy, homeopathy, NAET (allergy elimination), European psychosomatic medicine, and shamanic healing.
Hampton Roads Publishing, 2003; 227 pages; ISBN 1-57174-289-1
See Table of Contents Read excerpt: Chapter 1
Book cover art by Loyd Chapplow, © 2003
---
This book is available from the author:
info@stephaniemarohn.com
Also at:
www.amazon.com
and other online booksellers.
Links to some of the doctors/practitioners whose work is covered in The Natural Medicine Guide to Schizophrenia:
Abram Hoffer. MD, PhD
www.orthomed.org

Dietrich Klinghardt, MD, PhD
www.klinghardt.org

Thomas M. Rau, MD
Paracelsus Klinik
www.drrau.com

Judyth Reichenberg-Ullman, ND, DHANP, MSW
Northwest Center for Homeopathic Medicine
www.healthyhomeopathy.com

Hugh D. Riordan, M.D.
Center for the Improvement of Human Functioning International
www.brightspot.org

Malidoma Patrice Somé, PhD
www.malidoma.com

William J. Walsh, PhD
Health Research Institute/Pfeiffer Treatment Center
www.hriptc.org
| Home | Books (main) | Bio | Contact |
| Angel Editing | Animal Sanctuary |